ABOUT
Photography should always be a collaboration with the people you're documenting and it's a perspective I bring to all my work, whether it was one of my earliest projects photographing young Cambodian refugees in street gangs in the United States, or over two decades of documenting stories in Asia, or today, working in a factory or office here in Seattle. To be a great story teller you must get close, understand the lives of the people you are photographing and create images that are engaging and authentic. I've been using cameras since I was 6 years old to try to understand the world around me and it's my goal everyday, no matter what the subject, to show how even the most mundane experiences of our lives can be impactful when seen with a sensitive and creative vision.
Now the hard part - where are you from? I'm an American, born in Switzerland, raised in the UK and sent to British all-boys schools, which is why my accent can be hard to pin down. I am also a versatile corporate, industrial & editorial photographer now based in Seattle after working out of Bangkok, Tokyo and Paris for 15 years. I've traveled and worked in over 30 countries photographing everything from conflicts in Southeast Asia to business leaders in Japan, roughnecks in Siberia to beer halls in Prague - a range of experiences that has prepared me for anything, including the challenge of chasing my two kids around with a camera.
My clients include many of the world's leading newspapers, magazines and multinational corporations, as well as small and medium size firms right here in Seattle. I've worked on contract for Time Magazine from 1997-2004, The New York Times for over 20 years where I've completed over 700 assignments, and for Fortune Magazine since 2011. Starting in 2020 I also do still drone photography with a Part 107 Remote Pilot license from the FAA.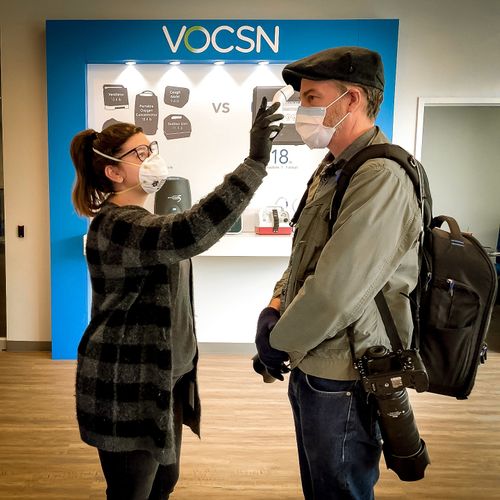 COVID-19 SAFETY for photography sessions
Please note, all photo sessions will follow all state regulations regarding health & safety. I will be wearing a mask, using longer lenses for 6ft + distance from subjects, respecting social distancing guidelines and no touch rules. Pre-shoot COVID-19 testing is also available, with either 24 or 48 hour turnaround.
UPDATE: I am now fully vaccinated for COVID and ready to travel!
CLIENTS















































ARIRANG TV - IN FRAME
My work featured on Korea's national TV network, Arirang, in two episodes of the In Frame series, "Port of Contrasts" and "Islands of Life".